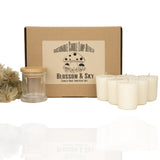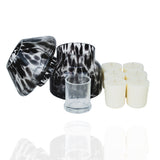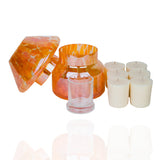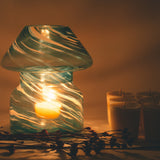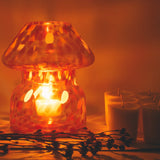 SUSTAINABLE CANDLE LAMP REFILLS
Description

If you loved our sustainable candle lamp, but the wax has run out. We now have our sustainable Olive Wax candle refills. With olive candle wax and high quality fragrance, these are the perfect alternative to paraffin based tea lights or votive candles. With these refills you will get:

1x glass jar with bamboo lid

6x Votive sized, fragranced, olive wax candles.

- Candle Lamp sold separately .

Once finished your wax, use hot water inside the lamp base to remove excess wax, then wipe till completely dry with a cloth.

Place one of your olive wax candles into the small clear glass jar and put the bamboo lid aside.

Place the votive olive candle, that is in the glass jar into the base of the lamp. Then light and put the candle lamp lid on.

Enjoy your lamp just as it was before but even more lit up.

Please note: If using refills in the Lava lamp please do not scrub, or used boiling water, as this could damage the tint on the outside. Only use the olive wax refills in the clear glass jar, otherwise the olive candles will melt within 2 hours if not placed in the glass jar.

Bamboo Lid: The bamboo lid on your jar is to help you re-use the jar once finished with your candle refills. Thoroughly wash the jar until fragrance and wax free and use as storage. 

Burn Time: approx 12-15 hours per candle. Box comes with 6 candles.

Fragrances Available:

Smoked Maple - A fragrance of delicious maple trees with soft smokey and deep woody notes. Peppered with spicy tones, this fragrance is simply beautiful for the home. Notes: Maple, Tangerine, Coffee Bean, Spices, Cardamom, Clove, Lily, Amber, Dried Tobacco, Vanilla, Patchouli, Vetivert, Sandalwood and Musk.

Cactus Blossom - Fresh cactus garden with vibrant green notes and fresh zesty lime, toned down with earthy cedar wood and musk. This fresh summer scent is a must for any home. Notes: Green herbs, orange, galbanum, lime, muguet, rose, cedar wood, musk and amber.

Frankincense - A fragrance that reminds us of a wooden house with high cathedral ceilings. The rich woody notes of pine, cedar wood and frankincense will fill your home. Notes: herb, thyme, pine needles, spice, cinnamon, frankincense, vanilla, musk, moss and livani.

Bourbon & Oak - A scent of a whisky bar with leather booths, smooth jazz and whisky on the rocks. Note: Bourbon, peach, oak, leather, amber and patchouli.

Spiced Amber -  A sweet woody scent with a spiced vanilla undertones. Notes: plum, rose, oud, spices, amber and wood.

Cherry Blossom -  A sweet, fruity, floral scent with an undertone of musk and amber.  Notes: Cherry, freesia and blackcurrants paired perfectly with lily of the valley, jequitiba, amber, cherry blossom and musk. 

Persian Rose - A rich spiced scent of clove, cinnamon and wood combined with fresh roses and sweet vanilla oud. This scent will have you dreaming of sipping chai tea in a rose garden.  Notes: Rose, Clove, Cinnamon, Musk, Cedarwood, Patchouli, Vanilla and Oud.

First Rain - After a hot dry spell, the sky opens up and it begins to rain. The scent of rain hitting the earth, crushing leaves and bringing out aroma. This reminds us of walking through a rainforest when it first begins to rain, the fresh smell of grass, earth and moss will have you reminiscing about the rain.  Notes: Green herbs, dew, petitgrain, orris root, ginger root, ferns, petrichor, moss, forest pines, truffles and musk.

Wild Fig - A Mediterranean scent of a fresh ripe fig. The smell of sweet figs is contrasted with the bitter, green, fig leaf making it the prefect balance of sweet and fresh. Notes: Green herbs, fig, mimosa, amber, musk and sandalwood

Variety Pack - 1x Bourbon Oak, 1x Cactus Blossom, 1x Frankincense, 1x Smoked Maple, 1x Spiced Amber and 1x Cherry Blossom refill.

LIMITED EDITION CHRISTMAS VARIETY PACK - 2x Buttered Rum, 2x Vanilla Custard, 2x Christmas Pudding refills. A combination of sweet Christmas scents inspired by traditional desserts enjoyed on the day. 

Candle Cautions: Please never leave a flame unattended. Place candle lamp on a heat resistant surface and use protective gloves when taking off the lid to extinguish flame, as glass can get extremely hot.
Materials

This candle lamp has been hand poured by us using:
- Olive wax (soy, palm and paraffin free).
- high quality luxury fragrance.
- cotton wicks.

This jar has been hand moulded with glass to be heat resistant. Bamboo lid with silicon seal.

Please note: These are handmade and will have minor imperfections such as naturally occurring bubbles, tiny dents and other tiny man made errors.
As seen in
"Here's Where To Shop Those Mushroom Candle Lamps That Keep Popping Up Everywhere."
"From coffee tables to mushroom shaped lamps, don't let your imagination stop you."
"I bought one of these Blossom & Sky Sustainable Candle Lamps for a friend and I am so obsessed with it that I am going to get one for myself."