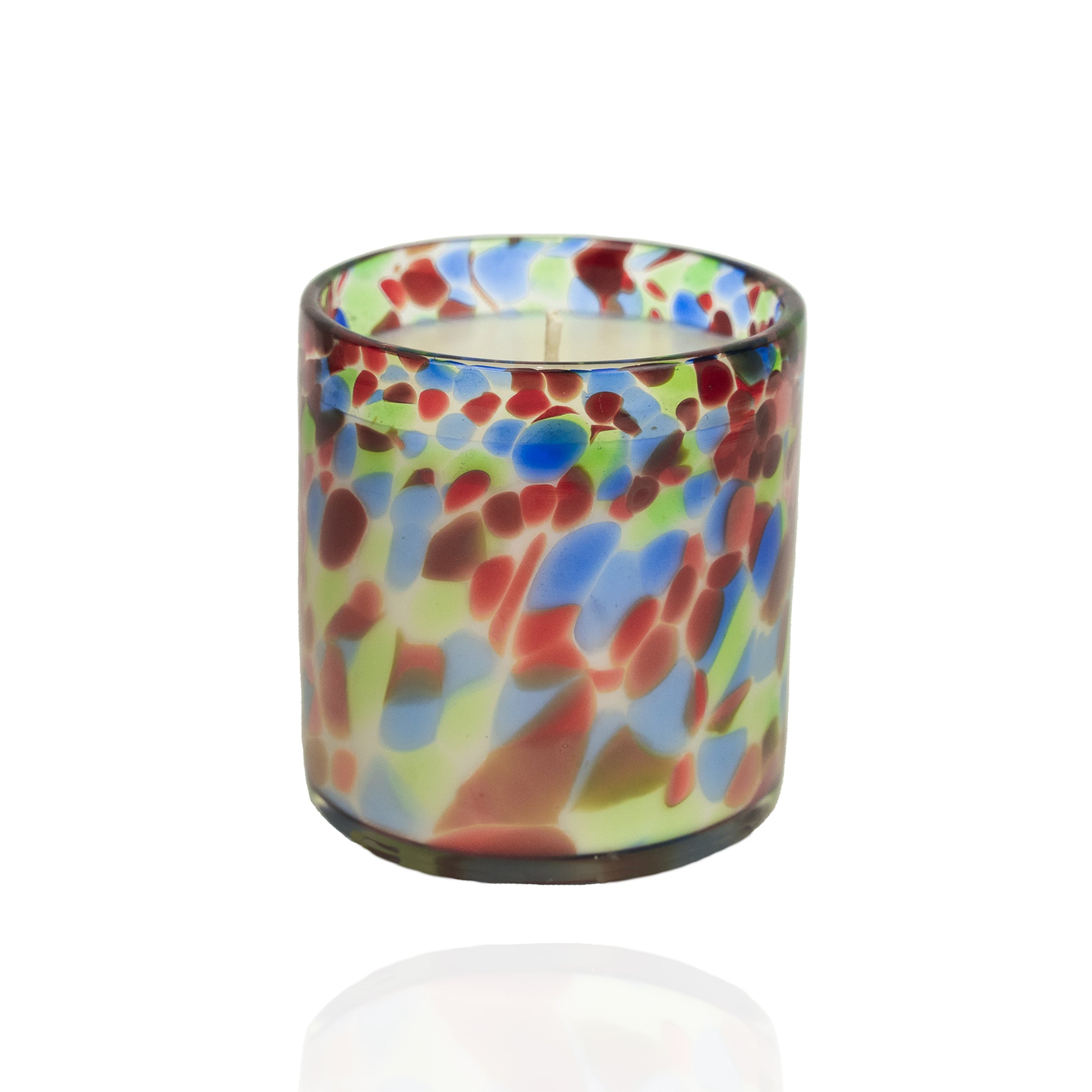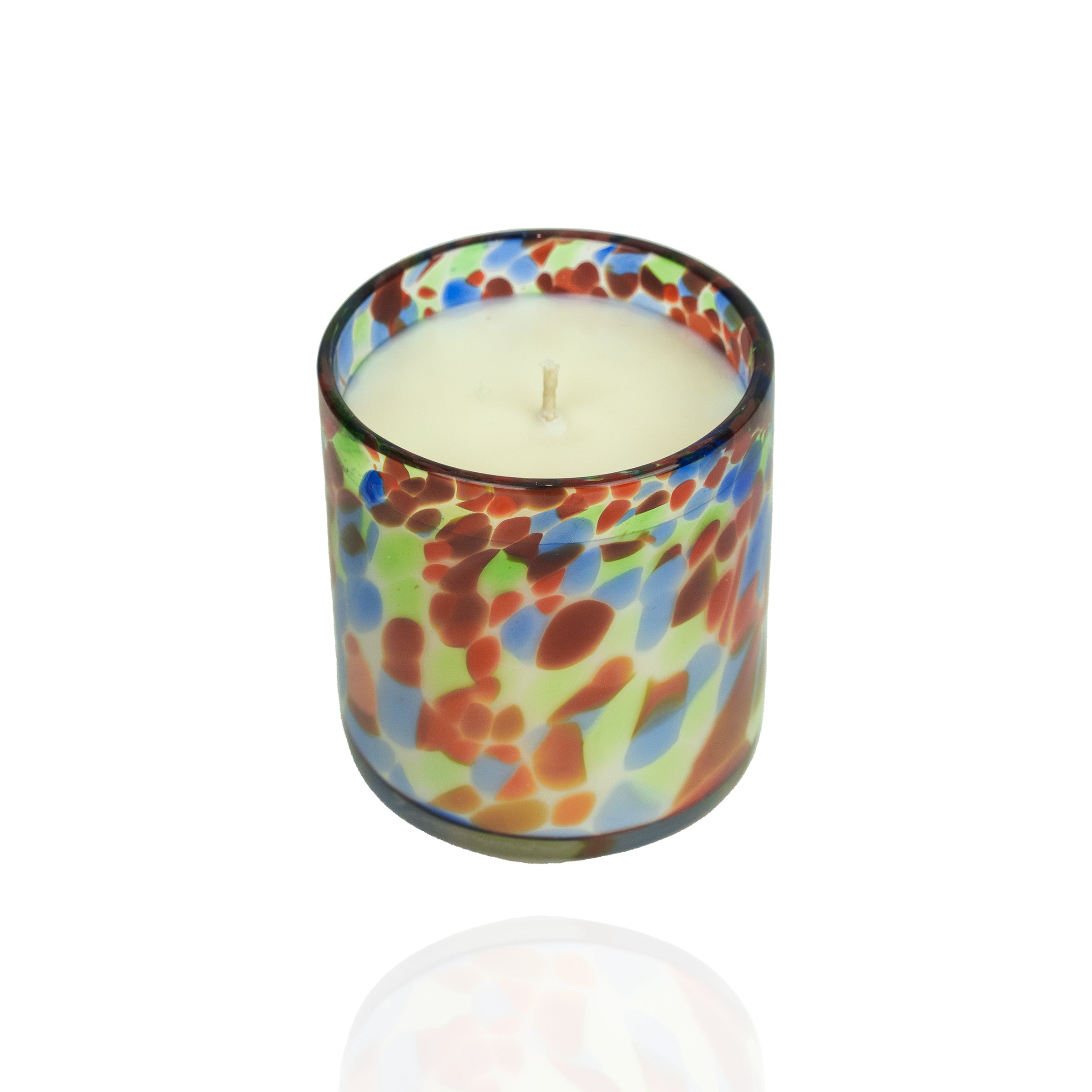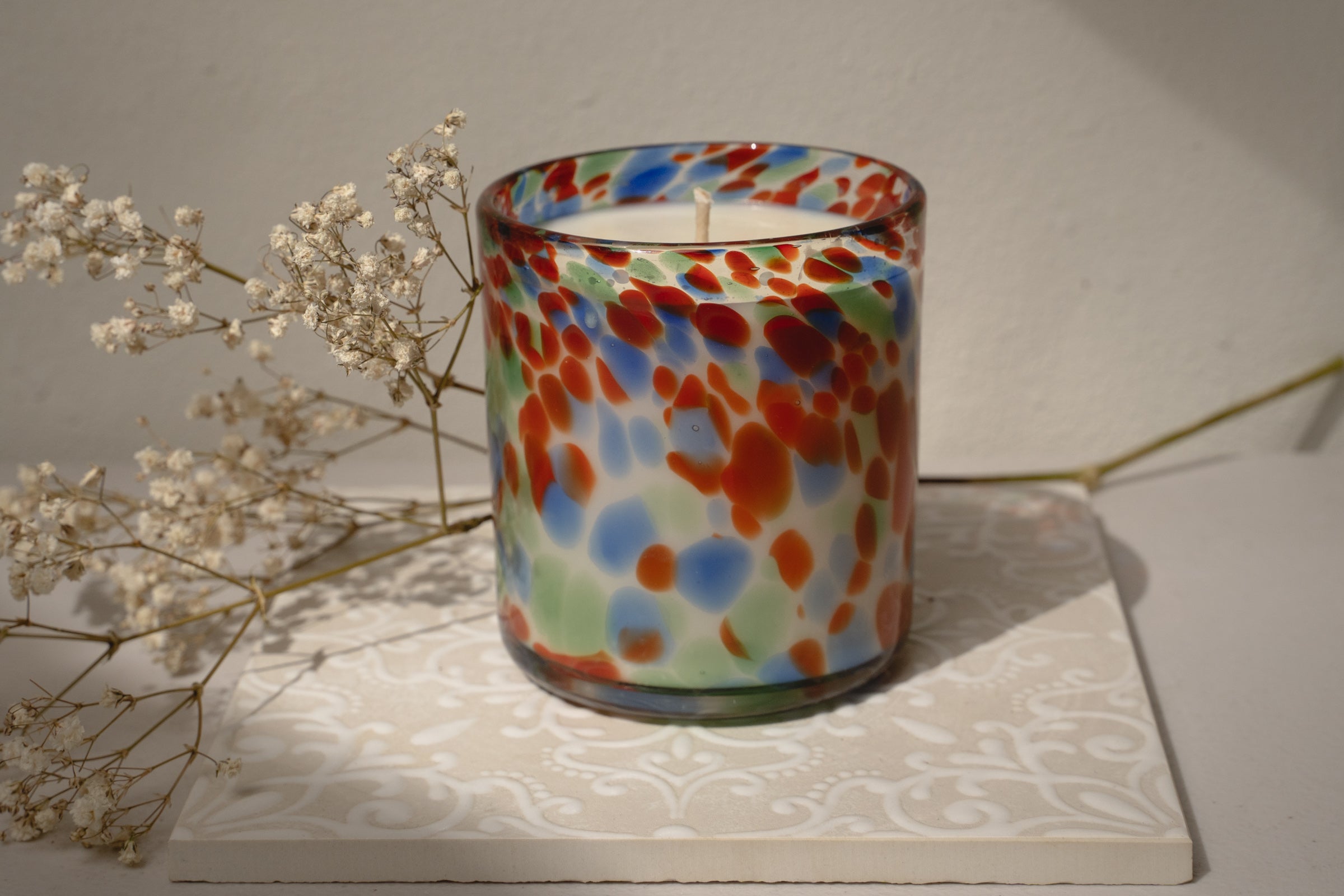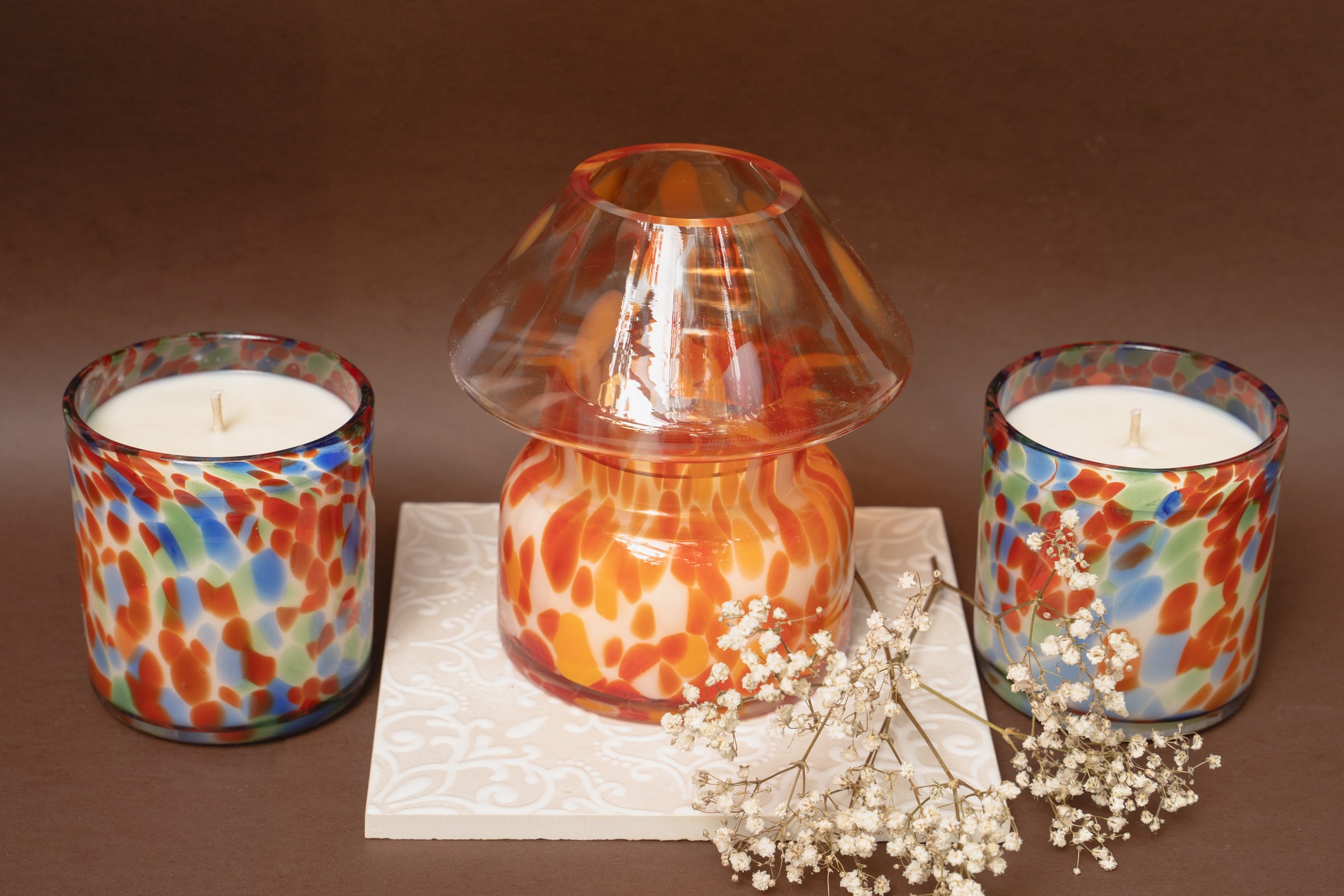 A celebration of glass art. This retro inspired candle is the perfect decor addition to your home. Scented with our spiced amber fragrance this candle has a soft and sweet scent. This candle has been made with 100% soy wax for a clean burn. Once finished we recommend using this jar as a vase, toothbrush holder or place a tea light inside. Pair it with our Sustainable Candle Lamp or enjoy its simplicity on its own.

This Retro candle has red, green, blue and orange markings throughout the glass. Every print is different and unique with differing colour density. Our candles are hand poured in Byron Bay.
Burn Time:  approx. 60+ hours burn time
Fragrance: A sweet woody scent, full of rich yet subtle spices. This scent reminds us of brandied plums with black teak and lightly roasted oud.
Notes: Plum, Rose, Oud, Spices, Amber and Wood.
Candle Cautions: Please never leave a flame unattended. Place candle on a heat resistant surface. Read safety instructions on candle before use. 
Measurements: approx.  10.5cm height,  9cm diameter width. Each jar is hand-crafted, measurements may vary.
Packaging: All of our candles come in an eco friendly box with tissue paper surround. Eco bubble wrap and packing tape are used to keep your candle safe in the post. We may re-use packaging material to limit landfill.
Our ethic: Our products are designed and made with love and care. All respect for materials and those concerned in the making of our candles has being given.
This candle has been hand poured by us using:
- 100% soy wax.
- High quality luxury fragrance.
- Cotton wick.

Approx: 600ml wax & fragrance. This jar has been hand moulded with glass to be heat resistant.

Please note: When re-using jar, use a damp cloth to clean, not dishwasher safe. Each one may have minor imperfections such as naturally occurring bubbles in glass.
FREQUENTLY ASKED QUESTIONS
I want to order a necklace but the chain is too short for me. Can I get a custom length?
Yes, we can customise jewellery. However it can take up to 3 - 6 months as we are a slow fashion, ethical production, one off gemstone jewellery brand. Our pieces are manufactured by a small family business in Indonesia. If you would like more information on a custom jewel email us for further inquiries.
Can I get a different fragrance in my sustainable candle lamp?
Yes, you can order a custom fragrance for your candle lamp. Custom orders take 2-4 days to ship as the candle will need a minimum of 2 days to set. Send us an email inquiry for more information.
Love your pieces, but I would like a necklace in 14k solid gold. Is this possible?
Yes, we can customise certain jewels to solid gold with a higher gold price. However it can take up to 3-6 month. Our pieces are manufactured by a family business in Indonesia. These are slow fashion, small quantity or even one off jewels. Email us for further inquiries.
Do you have any stockist in Sydney? I would love to smell your candles and see your jewels in real life.
We have many stockist around Australia and one in New Zealand.
How long will my long will my order take to arrive?
Your order will be packed and sent within 1 business day.
Domestic Customers
Shipping times will vary depending on your location and can be anywhere from 1-14 business day transit time depending on shipping service selected.
International Customers
1-5 weeks transit time for depending on delays, service requested and customs restrictions to your local area.
Please note: All packages may have delays due to Covid-19 and Postal staff shortages.
How are the Sustainable Candle Lamps, sustainable?
Our Sustainable Candle lamps have been created to be re-used. We have used 100% soy wax and cotton wicks for a clean burning candle. Once burned please place an olive wax refill candle inside or use as a vase. Our candle lamp refill are now available here.