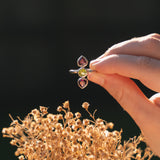 HEART GARNET AND PERIDOT TRILOGY RING
Description

Two heart shaped high quality faceted Garnet and one faceted circle peridot, in a simple 925 silver setting. This sleek design elongates the fingers adding a touch of elegance to your look. The way the the gemstones are faceted captures the light, shining a beautiful deep red and orange hues. Garnet is know for its protection and grounding properties and is also known as the lovers commitment stone. 
Materials

All of our jewellery is hand-crafted using quality metals and natural gemstones. This piece has been made with
- Sterling silver 925
- Garnet.
- Peridot

Our pieces: Our pieces are individually hand-crafted using quality metals. This means that your jewellery could have minor marks and additions, including our aged silver range. Our gemstones are unique and may differ slightly from stone to stone.
Dimensions

Measurements: Approx. width 6mm, Length 23mm. This ring is a size O 17.53mm diameter.
Stone Metaphysical Properties

Metaphysical Properties:
GARNET
- Love
- Passion
- Protection
- Grounding
- Abundance
- Honesty

PERIDOT
- Compassion
- Calming
- Harmony
- Health
- Grounding
- Peacefulness
- Renewal
- Goodluck
Care Guide

We want your new jewels to last as long as possible. To ensure that happens, please follow these simple care tips:

Cosmetics, perfume, and chemicals can dull the shine of a gemstone, fade vermeil gold, and tarnish sterling silver. It's best to spritz your perfume and apply cosmetics before adorning your sparkling jewels for the day or night.

To protect the beauty of your jewels, avoid wearing them in water. Remove them before bathing, showering, and swimming. When not in use, store them in their original packaging to shield them from sunlight and moisture, ensuring their longevity.

Polish your vermeil gold gently with a cotton cloth. Use a silver polish cloth for silver-only jewels, but remember to avoid gems and vermeil gold.

Our gold is 18 karat gold vermeil, which is similar to gold plating but specifically placed over sterling silver instead of mixed metals. We've applied a 2.5-micron coat of gold for a more durable gold finish.
As seen in
"Here's Where To Shop Those Mushroom Candle Lamps That Keep Popping Up Everywhere."
"From coffee tables to mushroom shaped lamps, don't let your imagination stop you."
"I bought one of these Blossom & Sky Sustainable Candle Lamps for a friend and I am so obsessed with it that I am going to get one for myself."